2013 Midnight Reserve
AK, AZ, CA, CO, DC, FL, GA, ID, IL, IA, KS, ME, MD, MA, MI, MN, MO, MT, NE, NV, NH, NM, NY, NC, ND, OR, PA, RI, SC, TN, TX, VT, VA, WA, WI, WY
1 to 0 units
$15.00 $0.00
unit
1 or more units
$4.94 $0.00
unit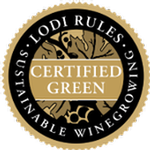 The 2013 vintage showcases the five traditional Bordeaux varietals – Cabernet Franc, Cabernet Sauvignon, Malbec, Merlot, and Petit Verdot. The blend captures the individual characteristics of each varietal and balances an elegant texture with structure and depth. Our classical approach to winemaking focused on handpicking select vineyard lots. With small lot barrel aging for 24 months in predominantly French oak, the wine captures rich dark berry notes that weave together with cocoa accents and toasty oak spices. As anticipated, it is a seamless wine that is robust with lasting flavors.
72% Cabernet Sauvignon. 18% Malbec. 7% Merlot. 2% Cabernet Franc. 1% Petit Verdot
Certified Lodi Rules for Sustainable Winegrowing
Awards & Accolades
| | |
| --- | --- |
| 95 Points, Gold | CA State Fair 2018 |
By knowing the strengths of each vineyard we distinguish which blocks are ideal for Midnight Reserve. The Cabernet portion of the 2013 vintage is three vineyards, Miller, River Ranch, and Twin Oaks. Our Malbec was harvested at Jahant Woods II, the Petit Verdot is at the doorsteps of our River Ranch homes in the heart of the Lodi Appellation, and both the Merlot and Cabernet Franc came from Miller Vineyard in the Clarksburg Appellation.
We were fortunate with the weather for much of the growing season, having a relatively dry spring and arid summer that allowed us to have complete control of irrigation. A week of very warm temperatures in the beginning of July spurred an early 2013 harvest, but during harvest the weather cooperated with daytime temperatures in the 80's to low 90's and only in the 50's at night. This was perfect to develop flavor intensity. In mid-September an unexpected 1/2 inch of rain worried us about our late ripening varietals, but we managed crop levels both early in the season and closely after the rains and were rewarded with excellent color and flavor intensity.
Cheese: Aged Cheddar / Meat: Short Ribs, Grilled Tuna / Sauce: Rich Tomato / Dessert: Dark Chocolate