2014 Estate Pinot Noir
AK, AZ, CA, CO, DC, FL, GA, HI, ID, IL, IA, KS, ME, MD, MA, MI, MN, MO, MT, NE, NV, NH, NM, NY, NC, ND, OR, PA, RI, SC, TN, TX, VT, VA, WA, WI, WY
1 to 0 units
$7.50 $0.00
unit
1 or more units
$3.10 $0.00
unit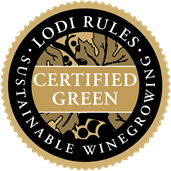 Our 2014 vintage was crafted with minimal handling from start to finish. Once the winegrapes were delivered to the winery they moved straight to a stainless steel tank where native fermentation occurred. This let the high quality fruit shine through by revealing aromas and flavors of pure ripe strawberry. Barrel aging in neutral French Oak Barrels adds a bit of spice and complements the fresh fruit notes. With a nice varietal focus and smooth finish, this wine is ideal to pair with a wide variety of dishes or cheese plates.
Certified Lodi Rules for Sustainable Winegrowing
Located in the Clarksburg Appellation below sea level, our Pinot Noir vineyard's nutrients and water levels are continuously monitored to ensure the winegrapes develop strong flavors during the growing season. Together with cool breezes from San Francisco Bay that help preserve acidity in the ripening fruit, we are able to grow a balanced winegrape.
After a cold snap in December 2013, the 2014 growing season transitioned to a mild winter and spring.  With the current drought conditions we welcomed the late February and early March rains that were well-timed and kept the vines growing. Consistent sunny weather from mid-March on led to early bud break in the vineyards as temperatures rose.  A few weeks of warm weather in the late summer months allowed the winegrapes to ripen early, making 2014 one of the earliest harvests on record.  On the vine, most varietals had loose clusters that resulted in even veraison, bringing about uniform ripening which is necessary for winegrapes to develop great flavors and color. With average yields and great quality, the 2014 season produced another unique vintage.
Cheese: Brie / Meat: Lamb, Tuna / Sauce: Light Red / Dessert: Créme Brulee