2016 Estate Moscato
AK, AZ, CA, CO, DC, FL, GA, HI, ID, IL, IA, KS, ME, MD, MA, MI, MN, MO, MT, NE, NV, NH, NM, NY, NC, ND, OR, PA, RI, SC, TN, TX, VT, VA, WA, WI, WY
1 to 0 units
$7.50 $0.00
unit
1 or more units
$2.37 $0.00
unit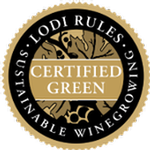 Opening with our classic Moscato bouquet of apricot and peaches that give way to distinct notes of honeysuckle and orange blossoms, our 2016 vintage delivers identical characteristics on the palate. The overall taste is lightened by the freshness offered by slight refined bubbles, making it a refreshing wine to enjoy.
Certified Lodi Rules for Sustainable Winegrowing
Awards & Accolades
| | |
| --- | --- |
| 90 Points, Best Buy | 2017 Wine Enthusiast |
| Gold | 2017 Tasters Guild International Wine Competition |
The Moscato vineyard sits at sea level providing fertile soil with an abundance of nutrients. We continuously manage both the nutrient and water levels to ensure the winegrapes develop strong flavors.
With above average winter rains, we began the 2016 growing season with enough moisture in the soil profile to delay the start of irrigation. This allowed the vines to grow at their own pace until the crucial time when we began spoon feeding water to control vigor. Warm daytime temperatures and cool nights resulted in all varietals ripening quickly in the first half of the season, but as we came closer to fall, the late ripening varietals took their time reaching maturity. What developed was a long harvest, beginning at the end of July and lasting until the end of October, just before the first major fall rainstorm; lucky for us 99% of our vineyards were harvested.  The outcome is a season with average to above-average yields and winemakers please with the quality.
Cheese: Manchego / Meat: Chicken, Tilapia / Sauce: Fruit Based / Dessert: Pear Tart