2016 Estate Pinot Noir
AK, AZ, CA, CO, DC, FL, GA, ID, IL, IA, KS, ME, MD, MA, MI, MN, MO, MT, NE, NV, NH, NM, NY, NC, ND, OR, PA, RI, SC, TN, TX, VT, VA, WA, WI, WY
1 to 0 units
$10.00 $0.00
unit
1 or more units
$3.52 $0.00
unit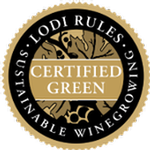 After crafting Pinot Noir for five vintages from the same vineyard, we have found the best winemaking technique is handling the wine with minimal intrusions to achieve balance. The winegrapes cold soak for a few days and then go through native fermentation, native-malolactic fermentation, and barrel aging for 8 months in neutral French Burgundy oak barrels. This creates a well-rounded, soft featured wine with aromas and flavors of both fresh and dried cherry that blend nicely with floral elements.
Certified Lodi Rules for Sustainable Winegrowing
Located in the Clarksburg Appellation below sea level, our Pinot Noir vineyard's nutrients and water levels are continuously monitored to ensure the winegrapes develop strong flavors during the growing season. Together with cool breezes from San Francisco Bay that help preserve acidity in the ripening fruit, we are able to grow a balanced winegrape.
With above average winter rains, we began the 2016 growing season with enough moisture in the soil profile to delay the start of irrigation. This allowed the vines to grow at their own pace until the crucial time when we began spoon feeding water to control vigor. Warm daytime temperatures and cool nights resulted in all varietals ripening quickly in the first half of the season, but as we came closer to fall, the late ripening varietals took their time reaching maturity. What developed was a long harvest, beginning at the end of July and lasting until the end of October, just before the first major fall rainstorm; lucky for us 99% of our vineyards were harvested.  The outcome is a season with average to above-average yields and winemakers please with the quality.
Cheese: Brie / Meat: Lamb, Tuna / Sauce: Light Red / Dessert: Créme Brulee