2014 Cabernet Sauvignon Reserve
AK, AZ, CA, CO, DC, FL, GA, ID, IL, IA, KS, ME, MD, MA, MI, MN, MO, MT, NE, NV, NH, NM, NY, NC, ND, OK, OR, PA, RI, SC, TN, TX, VT, VA, WA, WI, WY
1 to 0 units
$15.00 $0.00
unit
1 or more units
$3.35 $0.00
unit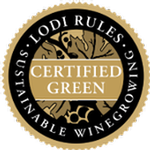 Our 2014 Cabernet Reserve is distinctly Lodi in character. The well-drained soils and Mediterranean climate of the Lodi Appellation coupled with the experience of our viticulture team provides consistency to our Cabernet Sauvignon. This wine has a showy presence with intense aromatics of blackberry and spice that carry through to the palate. Twenty-four months in second-fill French Oak barrels adds structure and complexity that compliments the fruit flavors. This is an elegant Cabernet that can be enjoyed now or cellared for years to come.
Certified Lodi Rules for Sustainable Winegrowing
The heart of the Lodi Appellation is a wonderful region to grow Cabernet Sauvignon producing intense well-structured wine. This vintage of our Cabernet Reserve comes from two vineyards within a few miles of the winery that are noteworthy as being benchmark of high quality.
After a cold snap in December 2013, the 2014 growing season transitioned to a mild winter and spring. With the current drought conditions we welcomed the late February and early March rains that were well-timed and kept the vines growing. Consistent sunny weather from mid-March on led to early bud break in the vineyards as temperatures rose. A few weeks of warm weather in the late summer months allowed the winegrapes to ripen early, making 2014 one of the earliest harvests on record. On the vine, most varietals had loose clusters that resulted in even veraison, bringing about uniform ripening which is necessary for winegrapes to develop great flavors and color. With average yields and great quality, the 2014 season produced another unique vintage.
Cheese: Gorgonzola / Meat: Beef, Tuna / Sauce: Heavy Tomato / Dessert: Bittersweet Chocolate