2013 Winery Exclusive Merlot
AK, AZ, CA, CO, DC, FL, GA, HI, ID, IL, IA, KS, ME, MD, MA, MI, MN, MO, MT, NE, NV, NH, NM, NY, NC, ND, OR, PA, RI, SC, TN, TX, VT, VA, WA, WI, WY
1 to 0 units
$12.50 $0.00
unit
1 or more units
$3.52 $0.00
unit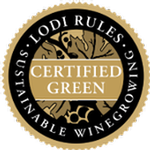 Our 2013 Winery Exclusive Merlot is a focused expression of the varietal. Three years of aging in French oak barrels lends distinct qualities to the color, aroma, flavor and texture of this classically made wine. The initial perception is complex with an intense ruby color and aromas of black olive, dark red fruit, and spice. The flavors on the palate mimic the aromas and are enriched with a rich texture and mouthfeel. This Merlot will appeal to those that appreciate the traditional Bordeaux varietals.
Certified Lodi Rules for Sustainable Winegrowing
Our Merlot Vineyard in the Clarksburg Appellation consistently creates a full-structured wine with berry fruit flavors. With the cold evenings and breezy afternoons, the conditions are ideal to create a balanced wine with strong fruit flavors.
We were fortunate with the weather for much of the growing season, having a relatively dry spring and arid summer that allowed us to have complete control of irrigation. A week of very warm temperatures in the beginning of July spurred an early 2013 harvest, but during harvest the weather cooperated with daytime temperatures in the 80's to low 90's and only in the 50's at night. This was perfect to develop flavor intensity. In mid-September an unexpected 1/2 inch of rain worried us about our late ripening varietals, but we managed crop levels both early in the season and closely after the rains and were rewarded with excellent color and flavor intensity.
Cheese: Parmesan / Meat: Grilled Meats, Swordfish / Sauce: Bolognese / Dessert: Dark Chocolate