2014 Estate Old Vine Zinfandel
AK, AZ, CA, CO, DC, FL, GA, HI, ID, IL, IA, KS, ME, MD, MA, MI, MN, MO, MT, NE, NV, NH, NM, NY, NC, ND, OR, PA, RI, SC, TN, TX, VT, VA, WA, WI, WY
1 to 0 units
$7.50 $0.00
unit
1 or more units
$2.90 $0.00
unit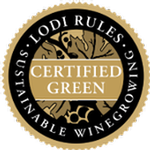 Drawing from unique vineyards within the Lodi Appellation, our Old Vine Zinfandel is a medley of multiple lots that are individually crafted and blended together to create a wine with varietal character. Aged for eighteen months in predominantly American oak, the toasty notes from barrel aging are well-integrated with the ripe fruit flavors of crushed blackberry. With lush character, our 2014 vintage illustrates the depth that Zinfandel holds.
Certified Lodi Rules for Sustainable Winegrowing
This is a blend of the best performing Zinfandel vineyards. The vineyard techniques are focused and precise to deliver winegrapes that have a distinct concentration of fruit flavors ideal to make a well-balanced wine.
After a cold snap in December 2013, the 2014 growing season transitioned to a mild winter and spring.  With the current drought conditions we welcomed the late February and early March rains that were well-timed and kept the vines growing. Consistent sunny weather from mid-March on led to early bud break in the vineyards as temperatures rose.  A few weeks of warm weather in the late summer months allowed the winegrapes to ripen early, making 2014 one of the earliest harvests on record.  On the vine, most varietals had loose clusters that resulted in even veraison, bringing about uniform ripening which is necessary for winegrapes to develop great flavors and color. With average yields and great quality, the 2014 season produced another unique vintage.
Cheese: Cheddar / Meat: Hanger Steak, Bouillabaisse / Sauce: Ragu / Dessert: Red Velvet Brownie