2015 Winery Exclusive Merlot
AK, AZ, CA, CO, DC, FL, GA, ID, IL, IA, KS, ME, MD, MA, MI, MN, MO, MT, NE, NV, NH, NM, NY, NC, ND, OK, OR, PA, RI, SC, TN, TX, VT, VA, WA, WI, WY
1 to 0 units
$12.50 $0.00
unit
1 or more units
$3.38 $0.00
unit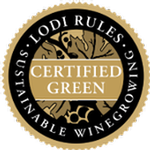 Our 2015 Miller Merlot shows beautiful balance of bright fruit and supple structure. Cedar and raspberry aromas open onto a palate layered with juicy, berry fruits and flavors of soft baking spices. Warm oak and silky tannins from 24 months in French oak barrels provide elegant support. This wine is gently polished, allowing the flavors to carry through to an earthy finish.
Certified Lodi Rules for Sustainable Winegrowing
MILLER VINEYARD - Our Merlot Vineyard in the Clarksburg Appellation consistently creates a full-structured wine with berry fruit flavors. With the cold evenings and breezy afternoons, the conditions are ideal to create a balanced wine with strong fruit flavors.
The heavy rains in December 2014 coupled with sporadic spring storms slightly eased the early season vine stress due to California's ongoing drought conditions. Warm windy days and cooler than average nights in April and May led to slow crop development as well as small berry and cluster sizes. We did see warmer than average temperatures in June and typical July weather that resulted in an early, intense harvest with lower yields on average. The season began almost three weeks ahead of normal and was completed by the end of September. Throughout the season, we worked hard to keep up with the fast paced harvest to deliver winegrapes at the optimal time with our winemaking team loving the concentrated colors and fruit flavors.
Cheese: Parmesan / Meat: Grilled Meats, Swordfish / Sauce: Bolognese / Dessert: Dark Chocolate