2016 Winery Exclusive Chenin Blanc
AK, AZ, CA, CO, DC, FL, GA, HI, ID, IL, IA, KS, ME, MD, MA, MI, MN, MO, MT, NE, NV, NH, NM, NY, NC, ND, OR, PA, RI, SC, TN, TX, VT, VA, WA, WI, WY
1 to 0 units
$10.00 $0.00
unit
1 or more units
$3.22 $0.00
unit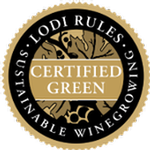 Our debut bottling of Chenin Blanc is a vibrant expression of the varietal. Coming from the Prince Vineyard in the Clarksburg Appellation, our Chenin Blanc is refreshing and bright with balanced acidity. Fermented to dryness solely in stainless steel, the aromas and flavors of juicy citrus and tart pear shine through with purity. Pair with Southeast Asian cuisine or you favorite cheeses.
Certified Lodi Rules for Sustainable Winegrowing
One of the many varietals within Prince Vineyard is Chenin Blanc: planted in 1995, 1996 and 2012 in nine separate blocks totaling 92.08 acres. The vineyard is in the Clarksburg Appellation, with an ideal location to maintain the natural acidity and floral bouquet.
With above average winter rains, we began the 2016 growing season with enough moisture in the soil profile to delay the start of irrigation. This allowed the vines to grow at their own pace until the crucial time when we began spoon feeding water to control vigor. Warm daytime temperatures and cool nights resulted in all varietals ripening quickly in the first half of the season, but as we came closer to fall, the late ripening varietals took their time reaching maturity. What developed was a long harvest, beginning at the end of July and lasting until the end of October, just before the first major fall rainstorm; lucky for us 99% of our vineyards were harvested. The outcome is a season with average to above-average yields and winemakers please with the quality.
Cheese: Gruyere / Meat: Pork, Salmon / Sauce: Curry / Dessert: Berry Tart