2016 Nouveau
AK, AZ, CA, CO, DC, FL, GA, HI, ID, IL, IA, KS, ME, MD, MA, MI, MN, MO, MT, NE, NV, NH, NM, NY, NC, ND, OR, PA, RI, SC, TN, TX, VT, VA, WA, WI, WY
1 to 0 units
$9.00 $0.00
unit
1 or more units
$2.85 $0.00
unit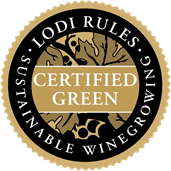 LangeTwins Nouveau is a celebration of the 2016 harvest, the first release of the vintage, and a first ever bottling! To honor the 2016 vintage from the Lodi Appellation, we thought it would only be appropriate for the wine to be crafted from Old Vine Zinfandel, and it truly is a unique expression of Lodi's famous traditional varietal.
Directly after harvest the winegrapes were stored in a stainless steel tank for several days, and a small portion of the Old Vine Zinfandel juice was bled off into neutral barrels for fermentation, a process known as saignée. The barrel fermentation led to additional texture and richness in the young wine, and just after fermentation was complete, the wine was bottled.
The brilliant berry color in the glass is due to the natural occurring acidity in the youthful wine, and as you move to the bouquet, aromas of watermelon and tart cherry are evident. This carries through to the palate with a bright and lively finish. Our Nouveau has characteristics of both red and white wine, allowing it to be served at room temperature or slightly chilled, and really is a versatile wine ideal for pairing with a variety of foods.
Certified Lodi Rules for Sustainable Winegrowing
Cheese: Manchego / Meat: Turkey / Sauce: Cranberry / Dessert: Pumpkin Pie