2017 Estate Chardonnay
AK, AZ, CA, CO, DC, FL, GA, ID, IL, IA, KS, ME, MD, MA, MI, MN, MO, MT, NE, NV, NH, NM, NY, NC, ND, OK, OR, PA, RI, SC, TN, TX, VT, VA, WA, WI, WY
1 to 0 units
$7.50 $0.00
unit
1 or more units
$2.25 $0.00
unit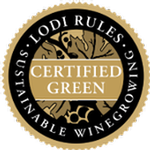 Our 2017 vintage is a fresh and fruity Chardonnay mellowed by an integrated richness from sur-lie aging. Bright tropical aromas are joined by vanilla aromatics that follow through to the palate. With a balance between the fruit notes and fresh creamery butter, it is a pleasing style with both richness and freshness.
Certified Lodi Rules for Sustainable Winegrowing
Our Estate Grown Chardonnay Vineyards in the Clarksburg Appellation consistently create unique tropical fruit flavors. With the cold evenings and breezy afternoons, the conditions are ideal for perfect acid, pH balance, and strong fruit flavors.
The 2017 growing season marked the end of the drought with heavy winter rainfall that continued into the spring. Due to the rain, timely vineyard practices were crucial and we adapted our cultural techniques to maintain vine balance. Heat spikes during late August to mid-September required close attention to irrigation to ensure vine health. With the given weather, our winegrapes developed the required sugars, but full flavor maturation delayed our harvest. The wait was worth it and the outcome was a vintage that boasts bright and fresh whites with ideal levels of acidity and red wines that are showing good intensity and concentration.
Cheese: Asiago / Meat: Pork, Halibut / Sauce: Cream Based / Dessert: Vanilla