2017 Estate Pinot Noir
AK, AZ, CA, CO, DC, FL, GA, ID, IL, IA, KS, ME, MD, MA, MI, MN, MO, MT, NE, NV, NH, NM, NY, NC, ND, OK, OR, PA, RI, SC, TN, TX, VT, VA, WA, WI, WY
1 to 0 units
$10.00 $0.00
unit
1 or more units
$2.79 $0.00
unit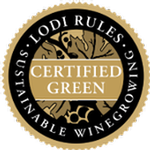 A true handcrafted wine made in a Burgundian style with native-malolactic fermentation and ten months of neutral French oak barrel aging, our 2017 Pinot Noir is a wine with finesse. The aroma and flavors of cranberry and cherry cola with floral elements of lavender and rose create a welcoming balance. Finishing with a smooth texture, alongside structure and depth, make this a well-rounded wine.
Certified Lodi Rules for Sustainable Winegrowing
Located in the Clarksburg region below sea level, our Pinot Noir vineyard's nutrients and water levels are continuously monitored to ensure the winegrapes develop strong flavors during the growing season. Together with cool breezes from San Francisco Bay that help preserve acidity in the ripening fruit, we are able to grow a balanced winegrape.
The 2017 growing season marked the end of the drought with heavy winter rainfall that continued into the spring. Due to the rain, timely vineyard practices were crucial and we adapted our cultural techniques to maintain vine balance. Heat spikes during late August to mid-September required close attention to irrigation to ensure vine health. With the given weather, our winegrapes developed the required sugars, but full flavor maturation delayed our harvest. The wait was worth it and the outcome was a vintage that boasts bright and fresh whites with ideal levels of acidity and red wines that are showing good intensity and concentration.
Cheese: Brie / Meat: Lamb, Tuna / Sauce: Light Red / Dessert: Créme Brulee