2018 Estate Pinot Noir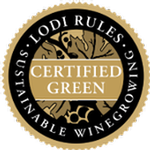 A true handcrafted wine made in a Burgundian style with native-malolactic fermentation and ten months of neutral French oak barrel aging, our 2018 Pinot Noir is a wine with finesse. The aroma and flavors of cranberry and cherry cola with floral elements of lavender and rose create a welcoming balance. Finishing with a smooth texture, alongside structure and depth, make this a well-rounded wine.
Certified Lodi Rules for Sustainable Winegrowing
Wine Profile
Vineyard Notes
Located in the Clarksburg region below sea level, our Pinot Noir vineyard's nutrients and water levels are continuously monitored to ensure the winegrapes develop strong flavors during the growing season. Together with cool breezes from San Francisco Bay that help preserve acidity in the ripening fruit, we are able to grow a balanced winegrape.
Production Notes
Weather is a key element of farming – it plays a crucial role in the health of our vines and winegrapes. Daily temperatures and rainfall come together to dictate the growing season, making each vintage distinctive. 2018 was a long and even season with moderate conditions and mild summer weather. This allowed the winegrapes to mature slowly with even ripening, pushing our start of harvest to August 6th, 10 days later than the previous two years. The overall moderate to cool harvest conditions were good for flavor development, but on October 3rd we endured rain showers. Luckily the following two weeks were dry and sunny helping finish the sugar accumulation in our mid to late ripening varietals. We ended harvest in November, one of the latest in recent memory, with particularly good quality and spectacular color in the red varietals and white varietals with sound flavor and acid development.
Food Pairing Notes
Cheese: Brie / Meat: Lamb, Tuna / Sauce: Light Red / Dessert: Créme Brulee