2014 Winery Exclusive Nero d'Avola
AK, AZ, CA, CO, DC, FL, GA, HI, ID, IL, IA, KS, ME, MD, MA, MI, MN, MO, MT, NE, NV, NH, NM, NY, NC, ND, OR, PA, RI, SC, TN, TX, VT, VA, WA, WI, WY
1 to 0 units
$12.50 $0.00
unit
1 or more units
$3.45 $0.00
unit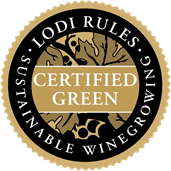 Staying true to our philosophy of hands-off winemaking, when the Nero d'Avola completed fermentation we simply moved the entire vintage into both neutral French and neutral American oak barrels. This allows the fruit to shine, but adds a touch of oak notes. After 18 months of barrel aging our inaugural vintage was complete. Opening with earthy and rustic aromas, a hint of dark fruit is also present. On the palate the dark fruit comes across as black cherry which carries through to the finish. A nice balance of tannin structure and fruit flavors make this an ideal wine for a variety of food pairings.
Certified Lodi Rules for Sustainable Winegrowing
In 2012 the Red Tail Vineyard was planted adjacent to our winery in the heart of the Lodi Appellation. The 3.62 acre block has open vines with small canopies allowing filtered sunlight to uniformly ripen clusters. This creates a perfect situation to develop concentrated flavors and colors that red wines are known for in our region.
Nero d' Avola is an Italian varietal with roots in Sicily and recently became one of the most widely planted varietals on the island. Historically it was used to add color to light red wines, but more recently has made a name for itself as a stand alone wine. It was our experience with growing other Italian varietals in the Lodi Appellation that led to our decision to experiment with Nero d'Avola. The 2014 bottling represents the first vintage from the young vineyard that neighbors our winery.
Cheese: Aged Parmesan / Meat: Tuna / Sauce: Tomato / Dessert: Flourless Chocolate Cake