June 4, 2015 | LangeTwins Staff
The Twins' 60th Birthday Cabernet: June Library Release
During the month of June in the Press Room, we will be celebrating Brad and Randy's 65th birthdays with a special library release of a covertly-bottled Cabernet Sauvignon.
Please join us in the Press Room for a taste and raise a glass to the Twins or order online and celebrate with us from afar!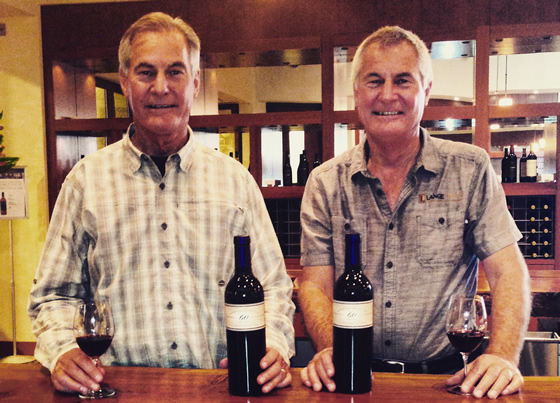 For the full story and tasting note, please read below:
Five years ago on June 1st 2010 Brad and Randy Lange celebrated their 60th birthdays. To mark the occasion, we celebrated with a special dinner in the cellar with family and close friends in attendance. During dinner the twins' children, Marissa, Aaron, Philip, Kendra and Joe surprised them with a special wine that they had secretly created for their dads.
With the help of the winemaking team the "kids" chose a special lot that the twins were sure to enjoy. Of course, they opted for Cabernet, a favorite and cellar go-to for both Brad and Randy. They knew the wine needed to be fruit forward but with enough tannin structure to be able to collect dust in their cellars – our Twin Oaks vineyard was an ideal vineyard source.
The last requirement was an important one: not too much oak! If you've shared a glass of wine with the twins, I'm sure they have reminded you that they're "winegrape growers not oak tree farmers."
There was a limited release of this wine in 2010 and the remaining cases were set aside for a future showing. In honor of the twins 65th birthday we have dug out a few cases from the cellar to share with our Wine Club Members and visitors.
Tasting Note
After five years of bottle aging in the cellar, this 2008 Cabernet Sauvignon is rich and concentrated with dark fruit flavors. Eighteen months of French oak aging adds suppleness to the mouthfeel and a tannin structure to the wine. You could easily lay down this wine for another 5-10 years, or enjoy it now in celebration.
Twins' 60th Birthday Celebration - 2008 Cabernet Sauvignon
Limited Library Release
Each bottle signed by the twins
$65 Retail / $52 Club