January 26, 2015 |
LangeTwins Staff
We hope you can visit us during Lodi's Wine & Chocolate Weekend, coming up quickly on February 7 & 8.

In addition to sipping our new 2014 Sangiovese Rosé, Midnight Reserve and the popular Tannat Dessert Wine, we have two very talented women joining us to make the weekend unique:

Nicole Patel, a nationally recognized chocolatier of Delysia Chocolates from Austin, Texas has partnered with us and will sample and feature truffles made with our wines. Nicole has been a focus of articles written in Wine Spectator and The Wall Street Journal.
Our exclusive LangeTwins Truffle Collections are available for sale in the Press Room.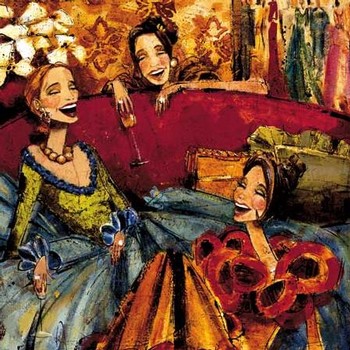 Kathy Womack hails from Dallas, Texas and will fill the cellar with an exhibition of her Women and Wine Series. She will have originals and limited edition prints to purchase as a perfect Valentine's gift. Costumes and fashion were her original focus, but she is developing a unique spin on women with the 'bella muertos' design.
Wine, chocolate, art and of course our delicious brie and chocolate paninis – see you then!